Around 15 years ago at the Ellis County Museum, I saw this intriguing artifact on display. I recently emailed the Museum director to make sure I remembered it correctly. The Director, Mr. Shannon Simpson responded,
"The artifact you are referring to is thought to be a Spanish conquistador lance-head and the information provided at the time of the donation stated it was found in the vicinity of Reagor Springs. I wish I could elaborate more on the piece but that is all I know."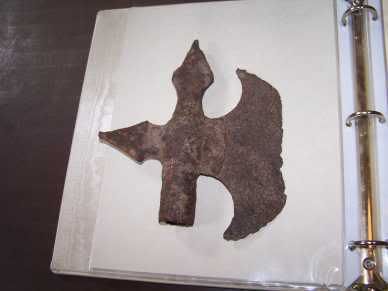 It has basically been sitting in storage for quite a while. Mr Simpson gave me the privilege to take pictures of it. I thought to myself that if it was a Conquistador artifact it would be a big find. They are very rare and Ellis county isn't known for any metal artifacts from the Spanish expedition times.
So I took my pictures and started Googling. Nada! There is nothing really out there on the net to use as a reference to this artifact. I even tried to look for paintings that depict the Conquistador armies or Spanish explorers. Then I came across a fella who had a web-site about the Spanish explorers. Don Sheppard was the fella from
Florida History
and he referred me to an expert from England. Ian Eaves is an expert in European armour and weapons. He has worked on European armour and weapon's books and has worked for museums to help
Catalogue
their armour and weapons. He has been President of
The Arms and Armour Society
since 1995. He graciously answered my email and to my disappointment sent this reply to my pictures.
"I am sorry to say that the so-called "lance-head" in the Ellis County
Museum is actually a crudely made forgery of an axe-head in the vaguely
"medival style". In truth, it does not really match any authentic type of
axe very closely. I am reasonably confident, even from photographs, that it
was made after the middle of the 19th century and very likely in the 20th
century.

I hope that this answer is of some help to you even if it is not the one
that you ideally wanted to hear.

Yours sincerely,

Ian Eaves"
Well I informed Shannon of the bad news and we both were like "oh well" you can't win them all. In my mind it was still stirring, Where did this thing come from? Why does it exist? Is it something where somebody was just playing around and made it? Was it made for decoration? Why would it be in a creek(reportedly found in or near a creek)? Maybe it was made after the explorers got here? With crude resources to shape iron it would look,well, crude. I imagine Mr. Eaves was use to museum quality probably more ornamental type of weapons. I imagine the crudely made ones he has seen were established to be forgeries. But I doubt he has seen many weapons actually made in North America. I'm sure very few have ever been found. But I'm not going to challenge an expert. I thought there might be a more local expert I could contact. So just for the heck of it I looked up an SMU archaeologist. I'm sorry I can't remember the SMU professor's name but he was a nice fella and gave me another professor to contact named Grant Hall from Texas Tech. Dr. Grant was also nice and then informed me "one of the leading experts on Spanish metal artifacts" lived not to far from me. A Mr. Jay Blaine who is a self-made expert Archaeologist. Specializing in metal artifacts. Something that he started as a hobby became something that he is very, very good at and the Professors look to him for answers. He is the recipient of the
Crabtree Award
. He is known for his work on
The Gilbert Site
. Fascinating archeology site near Lake Fork.
In the Post-Oak Savanna about 50 miles east of Dallas is an unusual archaeological site, a place that played a little-known part in Texas history. Here, some 250 years ago, a Caddo-connected Native American group established a deer-hunting and hide-processing camp that produced thousands of deer hides for an international market.
I had never even heard of the Gilbert Site but how awesome is that discovery! Mr Blaine also helped with the identification of
Coronado's army campsite
in the Texas Panhandle.
Mr Blaine graciously wrote this letter to Shannon and I.
(Just a note: a few times Mr Blaine refers to the Ellis County Museum as the Ennis Museum. Probably because I told him I work in Ennis)
"Dear Mr. Bailey,
I truly appreciate your calling attention to this particular artifact in the Ellis County Museum. The artifact photos were excellent and, although not reliable as personal examination, can provide a basis for the following speculations.
The artifact photos strongly suggest this artifact, a Halbard head, is of hand-forged wrought iron. Halbards saw service from the 13th through the 18th centuries. By the 18th century, this general form, a pole axe, had been relegated to serving as a symbol of authority instead of primary service as weapons, and commonly were lighter in form and decorated by fret work and engraving. As is common, only specimens of unusually high (parade) quality have been preserved in the museums and Royal collections and see publication. Those of ordinary quality were used, recycled, seldom preserved to afford direct comparisons.
The convex main blade edge of the Ennis Museum specimen appears to be much less common than the concave to straight blade edge profile typical for those of "parade" quality. The Ennis Museum Halbard also employs a socket whereas long iron straps were commonly used to secure such heads on the shaft and protect it from being cut. However I've seen a notation that early forms were simple and heavy, a description that seems appropriate for the Ennis one.
While I'd personally not favor the term "conquistador" in labeling the possible source of this Halbard head, an early exploring expedition (entrada) such as the Moscoso extension of De Soto's party possibly could have resulted in the artifact being lost in the "Reagor Springs creek".
The 1992 Bulletin of the Texas Archeological Society examined the very scarce Texas artifacts evidence for early European explorations. I much regret no Halbard was brought to our attention. Since that time I've worked with the metal artifacts from the 154] Coronado camp site recently found in west Texas. Again, no Halbard evidence has turned up.
I've no present reason to doubt some Halbards probably were being carried in these 1540's expeditions. These would be valued (even if only for a reworked metal source) and normally only lost by accident, in battle, or some other serious nature of mischance.
Pending other more sophisticated conservation treatment,
I'd strongly recommend this potentially very important metal artifact now be stored in an air-tight container, together with colored silica gel monitored for periodic dehydration. I'd also strongly recommend that you and Mr. Simpson team up to see if any other possibly involved Reagor Springs creek data can be retrieved.

Jay C . Blaine
cc: Shannon Simpson
Ellis County Museum
Dr. James H. Bruseth Director Archeology Division Texas Historical Commission"
I found this on the internet about
Luis de Moscoso
In July, 1543 the Tangipahoa probably were watching as seven makeshift boats, carried the battered remnants of De Soto's army of conquistadors past them to the Gulf of Mexico. For four years, the Spanish had crisscrossed the southeast United States running roughshod over its native peoples, but by 1543 they were beaten men. De Soto had died the previous year, and after failing to reach Mexico overland across Texas, his successor, Luis de Moscoso, returned to the "Great River" (Mississippi) for a last desperate effort to escape the interior by following it to the Gulf.
Apparently after everything went to pot they tried to go threw Texas to Mexico. Maybe they did pass through Ellis County? And tromping around for 4 years maybe they attempted to make weapons during this time?
In conclusion, Mr Blaine is
not
claiming this artifact is the real deal. He is leaving the possibility of it being the real deal open. He admits it is crude and not European. But his observation of the artifacts picture leaves him to speculate how it might have gotten into Ellis County. Mr Eaves observation of the pictures left him to think the artifact was a forgery. In his mind it was crude and did not match his extensive knowledge European of weapons. Mr Eaves could only imagine that it was a forgery. He has probably came across European forgeries in his European research. But one must look at how this was found. Apparently some one walking a creek or maybe working a field came across it. Then they donated it to the museum. Nobody knows who it was that found it. Museum has never claimed it was the real deal. Mr Eaves probably doesn't realize that the Ellis County Museum is in the 1889 Mason Lodge and needs local donations and volunteers to keep it up and running. What I am saying is that whomever donated the Halbard Head wasn't intending to mislead. Now the original creator of the artifact's intentions, that we may never know. The artifact was intriguing enough for Mr Blaine to recommend it's preservation be taken seriously.
It is an interesting coincidence that Mr Blaine sent a carbon copy of his letter to me to Dr. James H. Bruseth. Shannon Simpson has informed me that Dr. James H. Bruseth will be coming to Ellis County during Archeology month in October. I will post when it is to happen. DEVELOPING........
Maybe the location of where the artifact was found. Not much is known about who found it or exactly where. Just Reagor Springs and maybe in a creek. I have a lead that I am going to try to contact who seems to be a history buff on Reagor Springs.