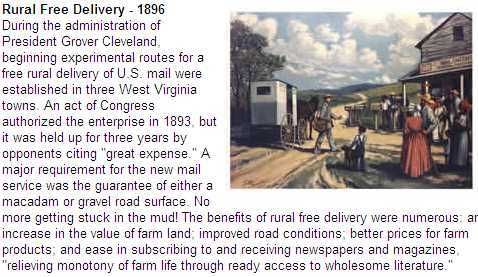 INFO FROM PUBLIC ROADS WEBSITE
About ten years ago
near the community of Rankin
, I found some artifacts metal detecting. First I came across a
cylinder
to what appears to be part of a
toy gun
. I was thinking people may have dumped trash here. Then near a tree I came across a padlock then part of a belt buckle. The lock looked old and didn't have the connecting loop just the pad part. On the pad it says "RFD". Which I was thinking might mean Rankin Fire Department. But on the other side it says "MAIL". A little later by coincidence, a lovely postal employee brought to my attention that a new stamp was coming in commemoration of the 100 years of Rural Free Delivery by the US Post Office. So I'm guessing that possibly the pad lock was meant for a mail bag that had a belt around it. Or maybe the it locked a door to a cabinet. Also I was told by an old timer that once there was an old road that crossed the area where I found the pad lock. The road supposedly went across an area that is now a corp lake. Maybe something happened on the delivery or a hand off. It's possible that maybe somebody just used the lock for personal use and it ended up out here. If the mind wonders enough you could imagine some thief who stole a bag or something that was locked up and took it out here and cut off the lock.
Rural Free Delivery

The rural free delivery system also contributed to the development of a parcel post system and played an important part in the good roads movement. True to some of the dire predictions of its early opponents, however, RFD cut into the profits of main street retailers; brought an exotic and sometimes threatening urban culture into rural living rooms; and added to the growing sense that residents of small towns lived at the margins of a consumer economy dominated by America's biggest cities.
All those roads that go deep into the woods or the country pretty much were a result of people wanting to get there mail. You know how picky the mail can be if you have ever lived out in the country. If a road was too muddy or difficult the mail wouldn't deliver. The person out in the country would have to ride or walk into town and get their mail. I have read where some citizens took it upon their selves to finance some good roads to their place so they could get their mail delivered. They weren't going to wait on the government.
THIS VIDEO IS FROM 1903 AND SHOWS A RURAL FREE DELIVERY HAND OFF. I DON'T KNOW THE LOCATION. BUT YOU CAN DEFINITELY TELL IT IS RURAL.
Here is a mail drop off Aug 22, 1903. Cute little kids walking buy witrh their dog in the lead.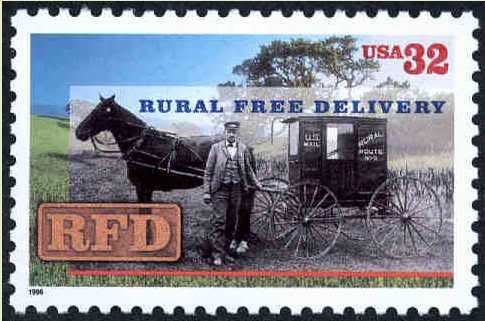 Commemorative stamp
Old picture of a RFD wagon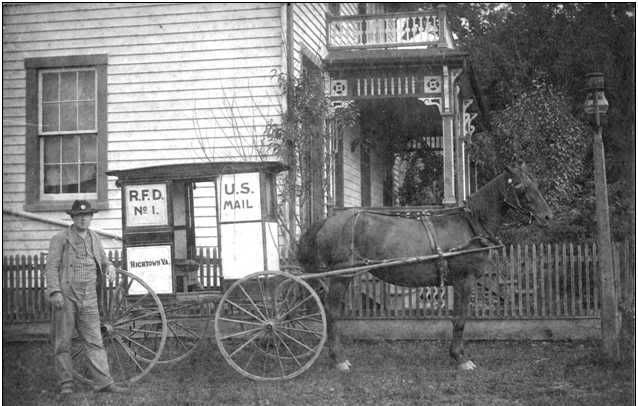 another old RFD pic
PICTURES OF THE PAD LOCK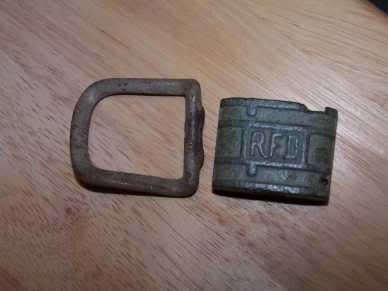 LINKS TO PICTURE OF THE TOY GUN CYLINDER
CYLINDER
CYLINDER1
CYLINDER2
CYLINDER PART